I have been receiving counselling for just over 2 years as the result of sexual abuse when I was 8 years old. Sam has helped me to unlock that 8 year old girl and help her to become a woman. Thank you Sam for giving me the freedom in my mind…and helping that 8 year old.T.P. Worcestershire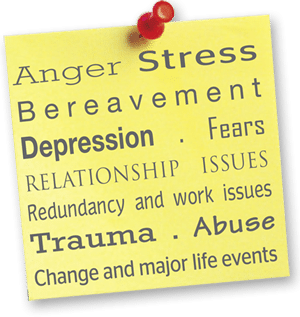 Ancora Counselling offers counselling and therapy services for a variety of issues you maybe faced with now or have experienced in an earlier period of your life.
You may be looking at this site as you enter a period of change in your life. You might have just had a child, or your children might have just left home. You may be readjusting after the break down of your relationship or be thrown into turmoil at the start of one. Someone you know, and love may be very ill or has died. You may be finding difficult to reconcile problems in your past or feel unable to move forward. Its times like these that we can question €œwhat is the meaning of my life?€ If you feel like this then counselling or therapy can be of real benefit to you.
Friends and family can support us through difficult times but a therapeutic relationship is unique in what it offers. It provides you with a relationship where you are heard and not judged, where you are accepted as an individual and where your issues can be explored and resolved in a safe and confidential environment.
The therapeutic relationship can feel daunting at times. It relies on a commitment from both you and your therapist. As the relationship between us develops and trust deepens you will become aware of how unconscious thoughts may have held you back. Through gentle challenge and exploration you can come to a new understanding of yourself and begin to make different choices and decisions.
The following lists of our counselling services is not exhaustive and only serves to give you an idea of the type of problems that our clients present to us on a daily basis.
Counselling Services
Abuse
Disability
Eating disorders
Emotional Distress
Illness
Obsessions
Personal Development
Post Traumatic Distress
Pregnancy
Redundancy
Self Esteem
Self Harm
Sexuality
Sexual Identity
Spirituality
Trauma
Work Related Issues